Audi College Grad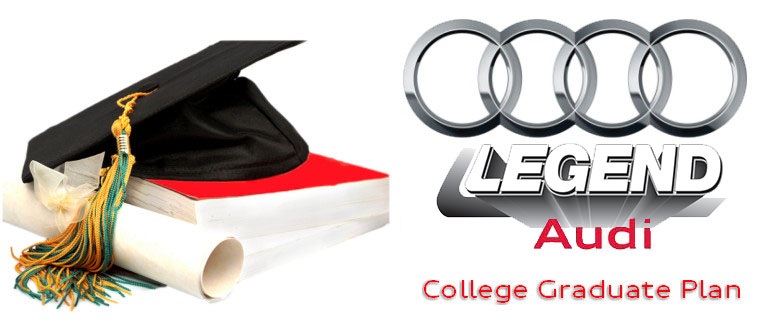 Congratulations on reaching this exciting milestone. As you close one chapter and open another, remember that it's not just
the destination that counts. You have worked hard to get here, and you deserve an exceptional vehicle to begin your next
adventure. The timeless design and unrivaled performance of your new Audi will say everything about how far you have
come, and more importantly, how far you are going. Our College Graduate Offer is designed to help qualified customers
lease or finance a new or Certified Pre-owned Audi, so you can take on the real world in style.
When you lease or finance through Audi Financial Services, you benefit from: r No security deposit on a new lease r No credit
history required (if you have existing credit, it must be in good standing) Competitive rates even if you have no credit, No
co-signer required.
First, you will need to meet these requirements:You graduated in the past 24 months, or will graduate in the next six months
from a 2 or 4 year accredited U.S. or Canadian college or university. You have a full-time job, or you have a written
commitment from a future employer. You are a U.S. Citizen or permanent resident of the United States.

Decide whether to lease or finance by determining which option would best fit your new lifestyle:
Lease: Take home a vehicle for a set amount of time and number of miles. Then, at the end of your term, return it to your
dealer and get into a brand new Audi. May provide lower monthly payments than financing, over a similar term, while
driving the latest models. Most lease terms provide full warranty protection throughout the lease. Flexible lease terms and
a range of mileage options available
Finance: Purchase a vehicle, pay for it over time, and make it yours. Ability to own for life and build equity. No end-of-lease
obligations, such as wear and tear. No mileage or customization restrictions. Competitive rates and flexible terms from Audi
Financial Services.